Summary Window
From IMSMA Wiki
| | |
| --- | --- |
| | All users have permission to view Summary windows. |
The Summary window displays the updated combined data for an item. This includes Data Entry Forms, geospatial data, associated attachments, and related item records.
There are several different ways to open the Summary windows:
Double-click the item row from the IMSMA Navigation window's items pane.
Select the symbol in the Map Pane so that a blue circle displays on the symbol. Once the blue circle is displayed on the symbol, double-click the symbol in the Map Pane.
The attributes displayed in the Summary window for each item are possible to be customised. The Summary windows consists of different areas:
Summary window toolbar
Information area
Data area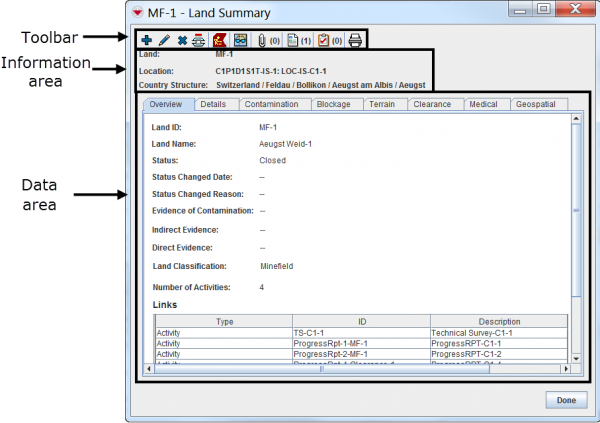 | | |
| --- | --- |
| | It is a User Preference if the Location and Country Structure information in the Information area are visible or not. |
Summary Buttons
Button
Description
Allows you to add a new item reconciled to the same Location as the existing item.
Allows you to update the item.
Allows you to delete the item from IMSMANG. However, the Data Entry Forms are not physically deleted from the the database, they get status deleted and are possible to retrieve back later if needed.
Allows you to Unlink Items two or more items.
Allows you to open the Location Summary Window which the item assigned to. This button is not available from the Location Summary window.
Allows you to view the item in the Map Pane.
Allows you to manage attached files The number of attachments includes the attachments that the item has and linked items have.
Lists the Data Entry Forms that are related to the item.

| | |
| --- | --- |
| | The number of Data Entry Forms is now only reflecting the opened Item. |

Allows you to display a list of Task(s) that the item is linked to as Objective or linked to a Work Item.
Allows you to display a list of printing templates for the item.
Data area - Geospatial tab
The Geographical data widget which is used in both Data Entry Forms and Summary windows is possible to customise. It is possible to show the coordinates in two different formats:
latitude/longitude a.k.a. storage format
the coordinate system and format the user used when entering the data.
Example of the same point entered with 4 different coordinate system
In this example the user used
WGS 1984 Decimal degrees for Point 1
WGS 1984 Degrees minutes seconds for Point 2
UTM for Point 3
MRGS for Point 4
Distance/Bearing for Point 5
The X and Y values that the user entered for Point 1 - 3 are shown in the two columns; X / Lon and Y / Lat.
When distance/bearing is used the column From shows from which point they were measured.
The two columns X / Longitude and Y / Latitude shows the calculated latitude/longitude.

When IMSMANG shows the items in the Map pane the calculated latitude/longitude are used.
| | |
| --- | --- |
| | When to use the different Point Types is described here. |