Task Tab
From IMSMA Wiki
Tasks consist of:
General information
custom defined fields
Objectives
Planning and monitoring information that applies to the whole Task or planned activities (Work items)
Status history
Related Information
Geospatial information.
In the Task Editor window you can see all these information organised in different tabs.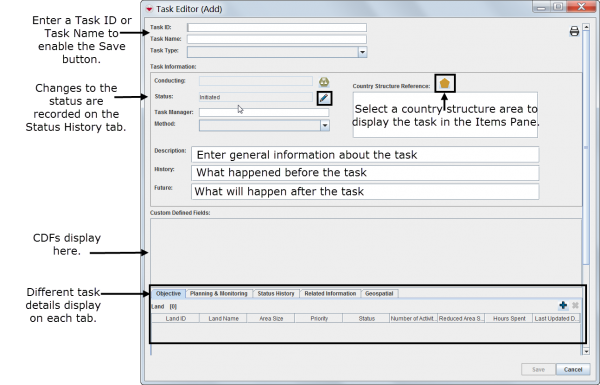 Objectives
On the Objectives tab the Task manager selects which Land should be included in the Task as an objective.
| | |
| --- | --- |
| | Land must have status set in order to be included in a Task as Objective. |
Planning & Monitoring
It is not mandatory for the Task manager to fill in the planning and monitoring information metadata or to link each Work Item to the reconciled and approved object that is the outcome of the Task.
Status History
The Status History tab displays a list of status updates made to the Task. Each time a user changes the status of a Task in the Task Editor window, a new record is entered in Task Statuses table. The following information is displayed:
The status selected at each status update.
The date of each status update.
The username of the person who initiated the status update.
The reason (if provided) for the status update.
| | |
| --- | --- |
| | You can click the button to view a summary of each status change including the date, controlling organisation, and a brief reason for the change. |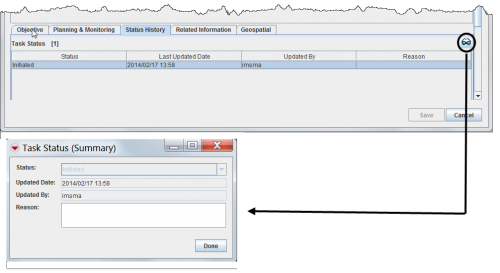 Related Information
On the Related information tab the Task manager can link to the Task other objects that are either helpful for his own planning or for the planning and/or execution of the Work item of the executing organisation. On this tab all types of objects are possible to be linked including Ordnance and other Tasks. Note that this is only for information purposes and is not intended to be sub-task of Task.
Geospatial Information
In the General information section you can link the Task to the Country structure which enables the Task to interact with the Country Structure Pane. On the Geospatial tab it is possible to plot the geographical extent of the Task.
It is now possible to select more than one Land when associating objectives.

The new Assistance item may be associate as Work Item. The geospatial data tab is always visible and the Statistics tab has been deleted.