QM Summary Window
From IMSMA Wiki
Quality Management (QM) coordinated activities to direct and control an organisation with regard to quality. In humanitarian demining QM consists of Quality Assurance (QA) and Quality Control (QC).
QA
QA is focused on providing confidence that quality requirements will be fulfilled. The purpose of QA in humanitarian demining is to confirm that management practices and operational procedures for demining are appropriate, are being applied, and will achieve the stated requirement in a safe, effective and efficient manner. Internal QA will be conducted by demining organisations themselves, but external inspections by an external monitoring body e.g. NMAA should also be conducted.
QC
QC relates to the inspection of a finished product. In the case of humanitarian demining, the 'product' is safe cleared land and QC is carried out by the operator.
QM in IMSMA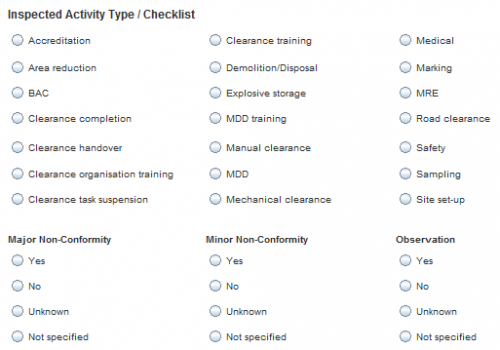 When IMSMA is used on a national level normally only the external inspections are entered with the signed checklists as attachments. With other words, instead of making a Data Entry Form for each type of inspection/checklist, only one QM template is created. It contains a fields for type of inspection is done, major/minor conformity and other fields that most checklists have in common and are valuable for follow up. All other information is in the attachment.
New fields in version 6.0
Category
Field
Data Type
Uncatorised
Major Non-conformity
Single Select
Uncatorised
Minor Non-conformity
Single Select
Uncatorised
Observation
Single Select
The parts of the Summary window are explained here.