Education Summary Window
From IMSMA Wiki
Education refers to any type of Education including Mine Risk Education (MRE), Risk Education (RE), Victims rights and International Humanitarian Laws (IHL).
MRE are activities which seek to reduce the risk of injury from mines/ERW by raising awareness of men, women, and children in accordance with their different vulnerabilities, roles and needs, and promoting behavioural change including public information dissemination, education and training, and community mine action liaison.
Education item contains a special subobject, Education Details. Countries implement Education in two different ways:

Education and Education Details,
Education with CDFs instead of Education Details.

Contact your GICHD IM advisor before starting Education implementation or making any changes of your Education implementation.
Education is classified as:
Community liaison
Information management
Media
Presentation
Public performance
Training
The option Military occurs in three different fields in Education which seem confusing but:
the field Military Audience is a specification of the option Military in Audience type.
the field Personnel Audience is a specification of the option Mine action personnel in Audience type.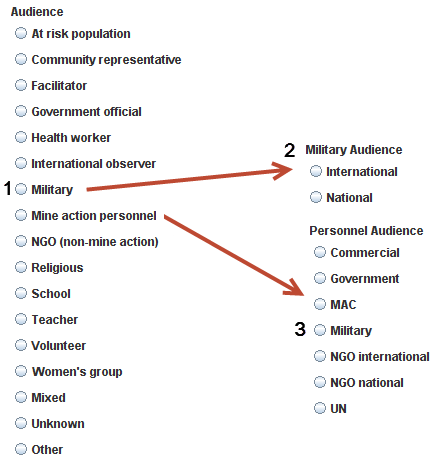 It is important that the Audience reached by the Education activity is recorded Sex and Age Disaggregated and that the age categories are agreed on in the Mine Action programme.
| | |
| --- | --- |
| | No new fields were added in version 6.0. |
Some of the fields of the Education item are described here and here are the parts of the window explained.
| | |
| --- | --- |
| | The Inspiration Data Entry Form template for Education details has been corrected and is available for download here. |