Portal:Business Intelligence
From IMSMA Wiki

Business intelligence (BI) is a set of theories, methodologies, architectures, and technologies that transform raw data into meaningful and useful information
[1]
. While operational systems - such as IMSMA
NG
and many others - are designed and optimised for data entry and updates, a BI system is read-only and designed for
analysing
and
visualising
data. The overall objective is to inform the decision making process, thus allow for evidence-based decision making. An important criterion of the underlying data is its
quality
- meaningful analysis can only be achieved if the input data is accurate, complete, and of known quality.
The Mine Action INTelligence Tool (MINT -- the name is a reference to Business Intelligence) has been introduced to facilitate the reporting process, and allow for analysis and visualisation of mine action data from IMSMANG and/or other sources. It is a tool and service provided by the GICHD to the wider mine action community.
Use cases for MINT include:
Creating digital dashboards to convey key information to specific audiences
Tracking indicators and progress
Creating interactive reports
Scheduling reports and sending notifications -- for example, send a specific report as a PDF attachment by email every Monday at 08:00 to the operations manager
Performing ad-hoc data analyses by dragging and dropping fields from predefined data sources
More details are available on the main MINT page.
From raw data to information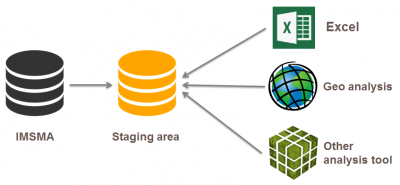 What steps are concretely required in order to get information out of raw data? If IMSMA
NG
is used for collecting and storing data, a reporting database called
staging area
can be generated using the
staging area generator (SAG)
. This is a "flat" version of the IMSMA database that is directly and easily accessible for
MINT
, Geo-analysis tools or any
other reporting and analysis tool
, such as Tableau and Excel. If the raw data is not in IMSMA, but in another database or in spreadsheets, MINT (and other tools) can also connect to it - contact your
GICHD IM focal point
for investigating a specific use case.