Switch Templates
From IMSMA Wiki
Why have different versions of the same template?
What data is collected in a MAP changes over time and therefore the templates changes too. When opening a filled in Data Entry Form the template used as layout for showing the data collected also shows which questions were asked then. Hazards created 2011 most likely do not have fields like Evidence but in 2014 they do.
There are situation where you would like to switch templates. E.g. you have found a misspelling in one label or a term that your MAP is using has changed e.g. from Dog SOP to Animal SOP.
What does it mean to switch templates?
Switching templates means that all data entry done with template Completion Report ver 6.0 2014-02-16 will look like they are done with other template e.g. Completion Report ver 6.0 2014-03-15.
What happens when you switch templates?
You update in the database which template was used for data entry.
What does not happens when you switch templates?
If you have changed something in the new version of the template e.g. made a value default that will not affect the data.
If you have changed a CDF e.g. from single-select to multi-select the data will still be stored as the single-select CDF and the multi-select CDF will be empty in all templates.
In other words, switching templates does not affect the data at all.
How to switch templates?
Click on C:\IMSMAng\client\bin\switchFieldReportTemplates.bat. The IMSMA server need to be started.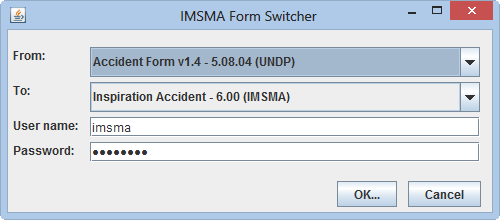 Select the from and to template. Click on OK.



If you get the expected number of templates, click on OK.