Log out of IMSMA
There are two ways of exiting the IMSMANG application:
Click the button that is in the top, right corner of the IMSMA Navigation window.

In the File menu → Exit.

A warning window displays to confirm that you would like to close IMSMA. Click the Close button.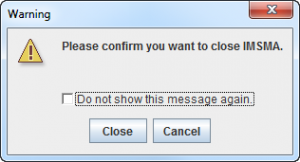 You may customise this option by checking Do not show this message again box, see also Setting User Preferences section.