Setting-up Decentralised Information Exchange
From IMSMA Wiki
| | |
| --- | --- |
| | This page is being re-organisated |
Decentralised Information Exchange
The decentralised model with Regional Mine Action Centers is characterised by one or more regional sites that conduct data entry and data quality control for their region. Regional sites also typically perform some regional data analysis designed to support regional operations management and planning. By contrast, the Central Mine Action Authority manages the overall data set for the entire country, collecting all regional information in order to perform national planning and produce national statistics.
In the following example, Data Entry Forms are reconciled, entered, linked and approved at each regional site for the ongoing operations in that region. Using the Export Data Entry Forms functionality in the Advanced Search, the regional sites export data on a regular basis (for example, monthly) and send it to the Central Mine Action Authority. The Central Mine Action Authority then imports the xml files from each site and resolves any issues with the imports as well as performs final quality control. When the import is complete, the Central Mine Action Authority compiles a set of national statistics and then distributes a complete dataset (in the form of a database backup) to each of the regional sites. The regional sites then shares the backup to the operators.
| | |
| --- | --- |
| | The contents is outdated! |
The regional sites restore the dataset and then import any data entered since the last export was sent to the Central Mine Action Authority. When the backup is restored, regular data entry and exchange can continue, based on a common dataset.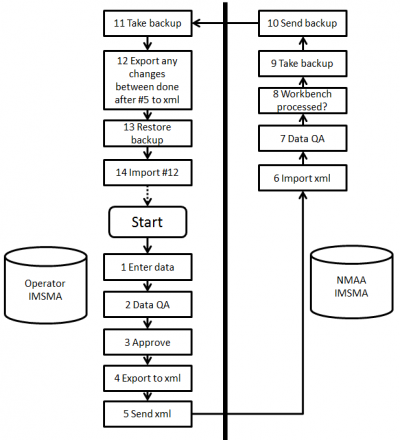 Decentralised Information Management Flow

This straightforward approach to decentralised data exchange ensures that all sites regularly receive a complete and authoritative dataset. Other variations on this pattern are possible with varying degrees of increased complexity to meet specific data exchange needs. Regardless of the information exchange pattern selected, there are several key aspects of maintaining decentralised data exchange within IMSMANG that must be considered. These aspects are discussed in the following sections.