Difference between revisions of "Portal:Business Intelligence"
From IMSMA Wiki
Line 22:
Line 22:
 
 
 
 
−

==Notes==

+

==Notes==

 

<references />

 

<references />

 

[[Category:VIE]]

 

[[Category:VIE]]
---
Revision as of 12:01, 13 June 2014
What are Business Intelligence and Mine Action Intelligence?

Business intelligence (BI) is a set of theories, methodologies, architectures, and technologies that transform raw data into meaningful and useful information [1]. While operational systems - such as IMSMANG and many others - are designed and optimised for data entry and updates, a BI system is read-only and designed for analysing and visualising data. The overall objective is to inform the decision making process, thus allow for evidence-based decision making. An important criterion of the underlying data is its quality - meaningful analysis can only be achieved if the input data is accurate, complete, and of known quality.
From IMSMA to Mine Action Intelligence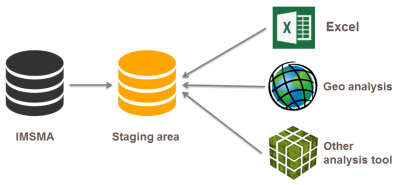 What steps are concretely required in order to get information out of raw data?
From within the IMSMANG application it is possible to export search results to Excel or using iReport templates with charts.
When the built in reporting functions in IMSMANG are not covering your needs then we recommend using the Staging Area. The Staging Area is a "flat" stand-alone version of the IMSMA database especially suitable for reporting/statistics/GIS. The Staging Area database is generated by using the Staging Area Generator (SAG) application. The Staging Area data is directly and easily accessible for different types of reporting and analysis tool, such as Tableau and Excel.
If not all data that you would like to use is not from IMSMA e.g. in another database or in spreadsheets, the tools can also connect to it - contact your GICHD IM focal point.
Notes