Setting User Preferences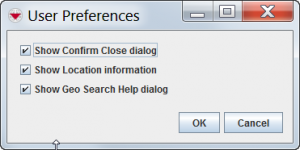 The Preferences window allows you to control the user interface settings for various IMSMA systems.
Click Customisation > User Preferences to open the User Preferences window.
Select from the following options:
Show Confirm Close dialog enables or disables the warning window asking for confirmation whenever you Log Out of IMSMA.
Show Location Information displays or hides the Location and Country Structure information fields on the Summary Window.
Show Geo Search Help dialog displays or hides a prompt explaining the map lasso tool whenever you click the button during a Search by Map Area.
To confirm your changes, click the OK button. To undo your changes, click the Cancel button.
It is also possible for each user to decided which columns to see in the Items Pane and List Window by using the column picker.